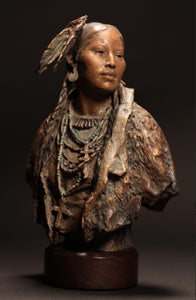 Plainsmen Gallery Fine Art
John Coleman Bronze "Sister of the Plains"
Regular price
$2,950.00
$0.00
Unit price
per
"Sister of the Plains" Bronze by John Coleman, CA.  This piece has been SOLD. Please email us if you would like to be added to our mailing list.

11"H x 7"W x 4.5"D Edition of 35. Signed and numbered. This stunning bronze edition was released in Oct. 2022 and the edition is sold out. This beautiful bronze is a resale in excellent condition. Includes a statement of authenticity from the gallery.
The patina is beautiful, with subtle variations in the color. There is a great deal of detail on this small sculpture!
Please contact us if you would like to be notified of new releases or resales.
For more information, please call or email The Plainsmen Gallery: 1-727-734-8200 or art@plainsmen.com.

Click this link to see more Artwork by John Coleman.
---