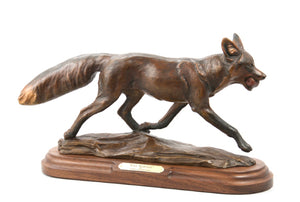 Plainsmen Gallery Fine Art
Veryl Goodnight Bronze "Fall Harvest" Available
Regular price
$2,600.00
$0.00
Unit price
per
This Beautiful Bronze by nationally-collected artist Veryl Goodnight is available!  $2,600  Foxes love apples, and Veryl watched as this friendly red fox helped himself to an apple from her neighbor's farm! 

8H x 17"W x 5"L With Base) Signed and Numbered by the artist. The patina has touches of gold on the tip of the tail and the ears- so gorgeous!

This lovely, detailed bronze is featured at the Plainsmen Gallery in Florida. Time Payments and Free Shipping are available for this piece. For more information please call or email The Plainsmen Gallery: 1-727-734-8200 or art@plainsmen.com.
Please contact the gallery for delivery time-frame. We may have 1 available to ship within 7 - 10 days.
---