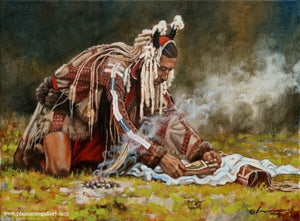 Plainsmen Gallery Fine Art
Steven Lang Painting "Opening the Medicine Bundle"
Regular price
$3,600.00
$0.00
Unit price
per
Original Oil on Board by Steven Lang, OPAM, 12" x 16" 
This beautiful painting was framed by the artist to complement the artwork.
The Artist's Description:  "In this painting the Blackfoot warrior chants softly while he slowly and reverently lays out the contents of his medicine bundle, as the smoke from the burning sage carries his prayers upward to the Great Spirit."  Steven Lang

There is also a digital image with animation and an original soundtrack that may be purchased in addition to the painting. The digital image can be registered as an NFT.  Please call or email the gallery to discuss purchasing the digital image.

The Plainsmen Gallery is proud to represent the beautiful paintings of western and wildlife artist Steven Lang. To read the artist's bio
click here.
For more information about this piece, please call or email the gallery: 727-734-8200 or art@plainsmen.com
---