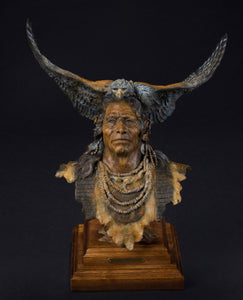 Plainsmen Gallery Fine Art
Jerry McKellar Bronze "Gray Hawk" Available
Regular price
$4,800.00
$0.00
Unit price
per
New Original Bronze by nationally-collected artist Jerry McKellar.  This bronze has incredible detail and the multi-colored patina is beautiful!
19"H x 17"W x 12"D.  Edition of 20. 1 Available.  Expected to ship within 10 days of placing the order. In some cases this piece may require extra time for shipping. Please contact the gallery for estimated delivery time.

This bronze is signed and numbered by the artist. Interest-free time payments are available!  The gallery pays part of the shipping cost for this piece.

For more information, please call or email The Plainsmen Gallery:  727-734-8200 or art@plainsmen.com.

---